Dr. Charles E. Gannon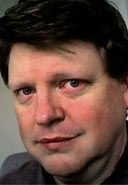 Dr. Charles E. Gannon is a Distinguished Professor of English at St. Bonaventure University, where he was the Director of Graduate English until resigning that post this past year. He is also a Fulbright Senior Specialist in American Literature and Culture. He has published both fiction and non-fiction in the SF field, and his longer fiction credits include novellas in shared world universes (such as the War World series) and in Analog. His most recent non-fiction book (Rumors of War and Infernal Machines: Technomilitary Agenda- Setting in American and British Speculative Fiction) is in second edition, won the 2006 American Library Association Choice Award for Outstanding Book, and was the topic of discussion when he was interviewed by NPR (Morning Edition). His next non-fiction bookÑBigger, Better, Brighter, Faster: the Reengineering of American Manifest Destiny is on advance contract and forthcoming from the University Press of Mississippi (late 2008/early 2009). Dr. Gannon has been a Fulbright Fellow at Liverpool University, Palacky University [Czech Republic], and the University of Dundee. He has received shorter-duration Fulbright Travel Grants to speak at Rome University 3, The University of Constantine the Philosopher (Slovakia), and The Roosevelt Center (Middelburg, Netherlands), as well as invitations to speak at the American Embassy in Prague and at more than 20 symposia, including those hosted by the Peter Wall Institute for Advanced Studies (UBC, Vancouver) and the Clinton Center for American Studies (University College, Dublin). He has several dozen publications (mainstream press and/or academic) on the interaction of narratives, technology (particularly military and space), and political influence. His degrees include a BA from Brown University, a MS from Syracuse University, and both a MA and a PhD from Fordham University. Prior to his academic career, Dr. Gannon worked eight years as a scriptwriter and producer in New York City, where his credits included over 100 documentaries, advertisements, public service announcement, feature-film rewrites, and landmark programs for the United Nations, the World Health Organization, and The PresidentÕs Council on Physical Fitness. He also worked as author and editor for GDW, and was a routine contributor to both the scientific/technical content and story-line in the award-winning games Traveller, and 2300 AD. Now a father of four (and eternally trailing half a rank behind his two oldest, brown-belted sons in Shotokan karate) Chuck has shifted back into a career that mixes full-time writing with occasional consulting (mostly for academic, defense, and government entities).
Lt. Col. Peter Garretson, USAF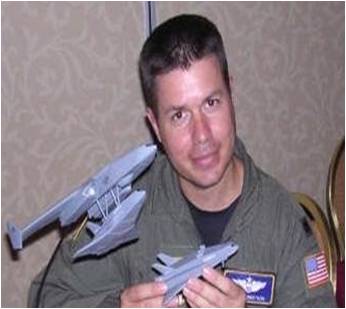 Lt. Col. Peter Garretson is a transformational strategist at Headquarters US Air Force. He is currently Division Chief of Irregular Strategy, Plans and Policy, where his focus is on how the United States can enhance the legitimacy of partner nations through a whole-of-nation concept called Aviation Enterprise Development (AED), and proactively shape the peacetime Air Domain to deliver positive foreign policy, security, and economic outcomes for the United States and its partners. He has previously served as an Airpower strategist and strategic policy advisor to the Chief of Staff of the Air Force on his Strategic Studies Group, and four years as the Chief of Future Technology for HQ USAF Strategic Planning.
He was the first serving US officer to serve as a visiting fellow at India's premier strategic think tank, the Institute for Defense Studies and Analysis (IDSA) as a Council on Foreign Relations (CFR) international affairs fellow. Lt Col Garretson is a former DARPA service chief's intern, Los Alamos National Lab service academy research associate, senior pilot, and winner of the NSS Space Pioneer Award.
Lt Col Garretson helped architect the Air Force Future Wargame Series from 2005-2009, as well as conceiving and executing the first-ever multi-agency deflection and disaster exercise and the first US-UK-France Trilateral strategic workshops.
He was a collaborator in a number of strategic documents, including the 2011 National Military Strategy (NMS), the NSSO Study, the UAS Flight Plan, the Air Force Vision for Learning, Air Force Energy Horizons, DARPA 100 Year Starship, and was the initiator of the Air Force Strategic Environmental Assessment, Air Force Futures Group and Blue Horizons Program.
He has published on a variety of topics including space policy, space strategy, scenario based planning, using Space & Energy to advance toUS-India Strategic Partnership, Space-Based Solar Power, Planetary Defense, the role of Science Fiction in Strategic Planning, the Future of Wargaming, Grid Computing, Augmented/Synthetic Reality, and Airpower in US strategy in Asia, and is currently writing a book on a vision and grand strategy for America in Space.
Kathleen A. Goonan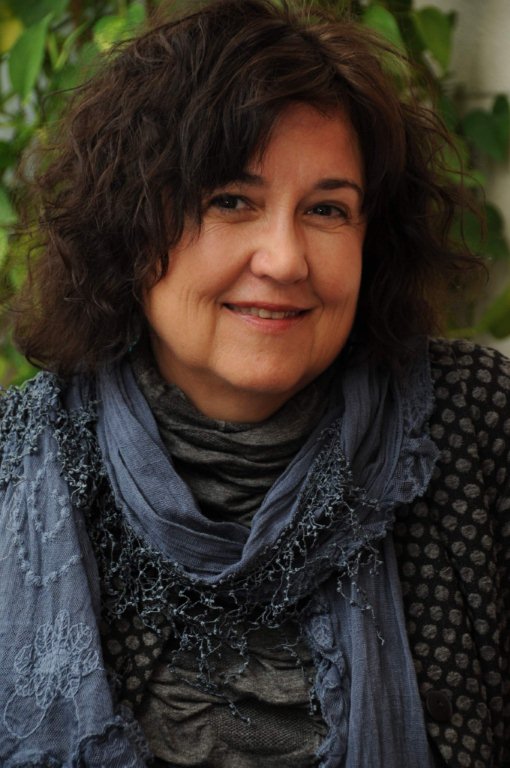 Kathleen Ann Goonan has been at the vanguard of literary science fiction since the publication of her New York TimesNotable Book Queen City Jazz in 1994, garnering starred reviews Publisher's Weekly, Kirkus, and Booklist for each of her novels. A literary stylist, she melds cutting-edge science with strong characterization, history, jazz, and what PW described as "The work of a powerful imagination with a superior command of language." Her work has been the subject of articles as widely varied as "Shamans of the Small" in a Scientific American Nanotechnology issue, scholarly papers, and has been studied at UCR, MIT, RIT, and other universities. Her novels have been finalists for the Arthur C. Clarke Award, BSFA, and Nebula Awards. In War Time won the Campbell Award for Best Science Fiction Novel of 2007 and was selected as Best Science Fiction Novel of the year by the American Library Association.
Goonan has been delivered policy talks U.S. Government think tanks, and is a speaker at the Global Competitiveness Forum in Riyadh in January 2012. She has also been invited to speak at univeristies and at literary festivals such as Kosmopolis in Barcelona and Utopioles in Nantes. She speaks about the ways in which science and technology have transformed society and culture, and literature. Her areas of interest include the impact of nanotechnology, medicine, and education on our future. She is a member of PEN, the MLA, SFWA, and SIGMA. "A Love Supreme," a commissioned short story about overpopulation, will be featured in Discover Magazine in 2012.
A graduate of Virginia Tech, Ms. Goonan is currently a Visiting Professor at the Georgia Institute of Technology, where she teaches writing, literature, and the history of science in the School of Literature, Communication, and Culture
This Shared Dream, Goonan's latest novel, explores themes and characters first presented in In War Times: it is an exploration of the biological underpinnings of memory (drawing on Eric Kandel's groundbreaking research), linked to the evolution of a world without war. Her vision of universal literacy and individual empowerment is based on the establishment of nanotech-enabled community-oriented international schools based on recent discoveries about neuroplasticity and how we learn, as children and as adults.
Goonan divides her time between Tennessee, Atlanta, and Florida with her husband, Joseph Mansy.
Steven Gould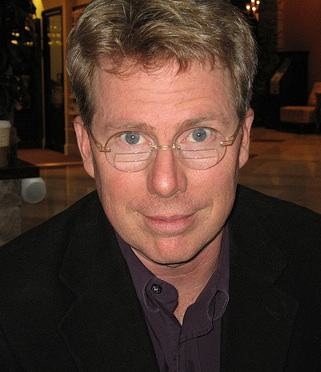 Steven Gould is the author of seven novels and a dozen short works. His fiction has been nominated for the Hugo, Nebula, Compton Cooke, and Prometheus awards as well as been listed among the top 100 books banned in America between 1990 and 1999. His 1992 novel Jumper (released as a major motion picture in February of 2008) discusses, among other things, the differences between Shia and Sunni Muslims and the dangers of confusing terrorist attacks against civilians and insurgent attacks against military forces. His novel Blind Waves (2000) deals with a future where rising sea levels have caused enormous numbers of refugees and resulted in the INS becoming the second largest branch of the US armed forces. The son of an army signal corps officer, he was born at Ft. Huachuca, AZ, the site of the US Army Intelligence School and Electronics Proving Grounds and has lived all over the world. He attended Texas A&M University 1973-1979 and has worked as R&D expeditor for the oil Industry, a Salvage Diver, and a network computer consultant. He is an active practitioner of Aikido (3rd degree black belt) and lives in Albuquerque, New Mexico. More information can be had at his website: http://digitalnoir.com/steve.
Joe Haldeman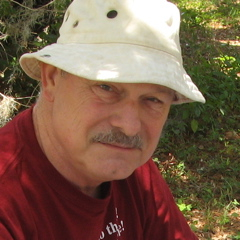 Joe Haldeman was born in Oklahoma and lived many places as a child, notably Alaska, before it was a state, and the suburbs of Washington, DC. He was drafted into the Vietnam War and saw some combat and was wounded. BS. in astronomy and MFA in writing. Sold his first story in 1969 and has been a writer ever since. Since 1983 has spent the fall semester teaching writing at MIT. He has won five Hugo and five Nebula Awards, and in 2010 was named a Grand Master by the Science Fiction and Fantasy Writers of America. His best-known novel, The Forever War, has been in print continuously since 1975, and will soon be a movie produced by Ridley Scott. His latest books are the trilogyMARSBOUND, STARBOUND and EARTHBOUND
Robert Hampson, Ph.D.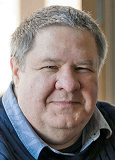 Dr. Hampson received his B.S. in Biology from the University of Texas at San Antonio in 1979, M.S. in Biology from Lehigh University in 1981, and Ph.D. in Physiology and Pharmacology from Wake Forest University in 1988. His primary research interest is in how the brain processes information involved in memory, and how that information can be decoded by means of neurophysiological recording and brain-to-computer interfaces.
Research in Dr. Hampson's laboratory and clinic research is centered around a framework of understanding the essential substrates of neural information processing for learning and memory, neuropharmacology, neurodegenerative disorders – using in vivo recording, EEG, and noninvasive imaging (PET, MEG and fMRI) – in the context of neural disruption by drugs, radiation, head injury, degenerative diseases and aging. He is active in the development of "replacement parts for the brain," and his team published in 2018 the first demonstration of a neural prosthetic for human memory restoration based on memory codes recorded from the human brain.
Dr. Hampson is a Professor in the Departments of Physiology/Pharmacology and Neurology at Wake Forest School of Medicine. He is on the Graduate School Council, chairs the Neuroscience Graduate Student Advisory committee as well as several dissertation committees, and teaches in the Neuroscience (NUSC), Integrated Physiology & Pharmacology (IPP), and general Graduate Studies programs (GRAD). He is an Associate (Reviewing) Editor for the Journal of Neuroscience Methods,and a regular reviewer for NIH and NASA.
Dr. Hampson has more than 10 Science Fiction short stories (ranging from mil-SF to zombie apocalypse to interstellar romance) published or in press as of the end of 2018. He has a couple of novels in the works and is co-editor, with Les Johnson, of the mixed space science and SF anthology "Stellaris: Becoming the People of the Stars" from Baen Books due in August 2019. He has advised more than a dozen authors as a subject matter expert and is a member of the Science and Entertainment Exchange.
Peter J. Heck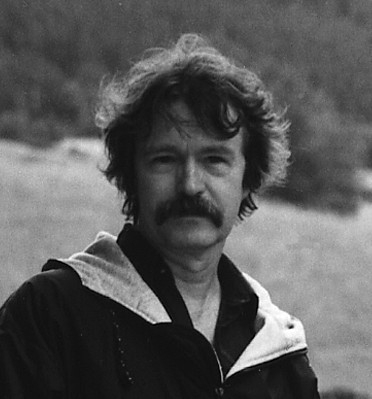 Peter J. Heck has been a full-time writer and editor since 1983. He is the author of six historical mysteries featuring Mark Twain as the detective, and has collaborated with Robert Asprin on 4 novels in the comic military SF series, " Phule's Company, " most recently Phule's Errand (2006). Heck also works as a free-lance editor for several New York publishers, and is a regular book reviewer for Asimov's Science Fiction and Kirkus Reviews. Heck and his wife Jane Jewell live in Maryland, where he has recently become a staff writer for his local newspaper. He also plays guitar and banjo in Col. Leonard's Irregulars, a popular local band.
John G. Hemry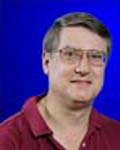 John G. Hemry is a retired officer in the US Navy and writer. His active duty career included serving as a surface warfare officer and as an intelligence officer. Operational experience included both conventional operations and support to specops. Assignments included gunnery officer and navigator on surface combatants, duty in the National Military Command Center, operations officer in the Navy Anti-Terrorism Alert Center, N2 with a deployed amphibious squadron and attached Marines, and in N3/N5 (Plans, Policy and Operations) on the Navy staff. In his final active duty assignment he also served as Navy action officer to the joint staff for black programs.
He is the author of seven books under his own name (the Stark's War series and the Paul Sinclair "JAG in Space" series) and the six book Lost Fleet series under the pen name Jack Campbell, in addition to numerous fiction stories and some non-fiction articles such as those on practical aspects of interstellar navigation and on declassified US military plans for moon bases during the Cold War.
Kevin Ikenberry, Lieutenant Colonel, USA, retired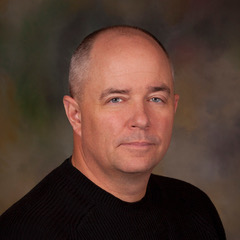 Kevin Ikenberry is a life-long space geek and retired Army space operations officer. A former manager of the world-renowned U.S. Space Camp program in Huntsville, Alabam, Kevin has a distinguished background in space science education including working with two Challenger Learning Centers as part of the Challenger Center for Space Science Education. Kevin was one of the first Army Reserve officers designated as a Space Operations Officer. He served almost twenty-four years in a variety of positions and assignments supporting space operations over the last half of his career. His is a graduate of the US Army Space Operations Officer Qualification Course, Space 300 at the National Security Space Institute, and the US Army Command and General Staff College. He holds degrees from East Tennessee State University and Mississippi State University.
Kevin's 2016 debut novel Sleeper Protocol was a Finalist for the Colorado Book Award and called "an emotionally powerful debut" by Publisher's Weekly. Kevin's other novels include Vendetta Protocol, Runs In The Family, Peacemaker, Honor The Threat, Stand or Fall, Deathangel, Super-Sync, and several co-authored novels. His short fiction has appeared in numerous anthologies and publications around the world. Kevin regularly instructs and mentors writers in character development and story structure. He continues to work with space every day and lives in Colorado with his family. Kevin can be found online at www.kevinikenberry.com.
Dr. Yoji Kondo

May 26, 1933–October 9, 2017
Jeffery D. Kooistra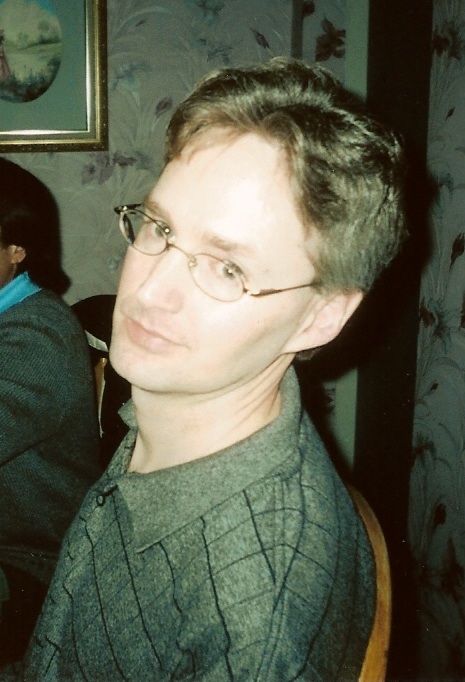 Is a science fiction writer and a free-lance physicist. He has published a few dozen science fiction stories of all lengths including the novel Dykstra's War. He has also authored fifty or so non-fiction articles as an Alternate View writer for Analog Science Fiction and Fact, on topics a diverse as from how the ancients moved big rocks to why the physics of soliton interactions will be the wave of the future. Though a permanent student of physics since junior high, he knew he'd like think-tank work the second time he read Kahn's On Thermonuclear War cover-to-cover. His current research interests include aether theories of the 19th century, and how they will become the Theory of Everything in the 21st, neglected issues in electromagnetic theory, and how they came to be (and whether or not they should stay) that way, and forgotten electronic technologies, and why they shouldn't have been.
Nancy Kress

Nancy Kress is the author of 23 books and several hundred stories, many concerned with genetic engineering. Her most recent novel, Nothing Human, posits a world in which humans must create their successors, a species able to live in an environmentally altered world no longer inhabitable by humanity. Her work has won three Nebulas, a Hugo, and a John W. Campbell Memorial Award for Probability Space, a novel of future physics. She participated in the 2006 annual meeting of the Defense Advanced Research Project Agency in San Diego. Kress has appeared on TV shows on Fox and the Discovery Channel on the future of the human race
Dr. Geoffrey A. Landis

Is a scientist and a science fiction writer. As a scientist, he is researcher working at the NASA John Glenn Research Center. He works on projects related to advanced power and propulsion systems for space and planetary exploration. He is currently a member of the science team for the Mars Exploration Rovers mission, which is directing the operation of two rovers, "Spirit" and "Opportunity" on the surface of Mars. He was a member of the Sojourner rover team on the Mars Pathfinder mission in 1997. For 2005 and 2006, he was the Ronald E. McNair Visiting Professor of Astronautics at MIT. He holds eight patents, and is the author of 400 scientific papers on subjects ranging from interstellar travel to semiconductor physics. As a writer, Geoffrey Landis won the Hugo award for best short story in 1992 for the story "A Walk in the Sun," and again in 2003 for the story " Falling onto Mars. " He won the Nebula award in 1990 for "Ripples in the Dirac Sea". His novel Mars Crossing from Tor books won the Locus Award for best first novel in 2001. His many science fiction stories has been translated into twenty one languages, ranging from Chinese through Turkish. His short story collection Impact Parameter (and Other Quantum Realities) was published by Golden Gryphon Books. It was named as a notable book of 2001 by Publisher ' s Weekly. He lives in Berea, Ohio with his wife, writer Mary A. Turzillo, and his cats Azrael and Tyrael. More information can be found on his web page: http://www.geoffreylandis.com.
Edward M. Lerner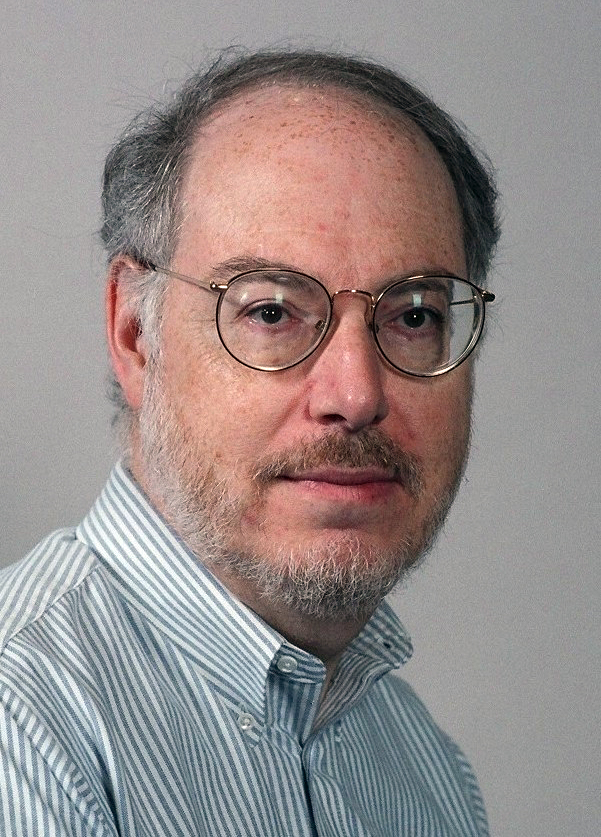 Edward M. Lerner is a hard SF author. He has a BS Physics and an MSE Computer Science (both from the University of Illinois) and an MBA (University of Chicago).
Now writing SF full time, Lerner worked in high tech for thirty years as everything from individual technical contributor to senior vice president. That experience includes Bell Labs, Honeywell, Hughes Aircraft, Northrop Grumman, a major Internet service provider, and a software start-up.
About half his industrial experience is in government contracting. Lerner managed IT projects for the FBI and (what was then) DMA. He has managed many engineering teams, including a 300+ person effort for a large NASA Earth-observation program.
Lerner's hard-SF short fiction and popular-science articles appear most frequently in Analog. His novels include Fools' Experiments (near-future AI, 2008), Small Miracles (medical nanotech, 2009), and Energized (alternate energy and asteroid deflection/exploitation, 2012). As an author, Lerner is perhaps best known for his five-book Fleet of Worlds series of hard-SF interstellar adventures, in collaboration with NY Times best-selling author (and fellow SIGMA member) Larry Niven.
Dr. Paul Levinson
<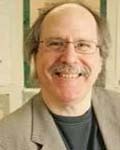 Dr. Paul LevinsonÕs books include Cellphone: The Story of the World ' s Most Mobile Medium (2004), Realspace: The Fate of Physical Presence in the Digital Age (2003), Digital McLuhan: A Guide to the Information Millennium (1999), and The Soft Edge: A Natural History and Future of the Information Revolution (1997). They have been translated into Chinese, Japanese, and six other languages. His New New Media will be published in 2009. Paul Levinson is also author of the following science fiction novels: The Silk Code (1999), Borrowed Tides (2001), The Consciousness Plague (2002), The Pixel Eye (2003), and The Plot To Save Socrates (2006) He has appeared on CBS, ABC, Fox News, PBS, MSNBC, CNN, CNBC, The Discovery Channel, The History Channel, CSPAN, NPR, the BBC, and the CBC, and is frequently quoted as a media expert in the New York Times, Washington Post, Los Angeles Times, U.S.A. Today, and by AP and Reuters. He maintains two blogs and four podcasts, has a PhD from New York University, and is Professor and Chair of Communication & Media Studies, Fordham University in New York City.
Thomas Ligon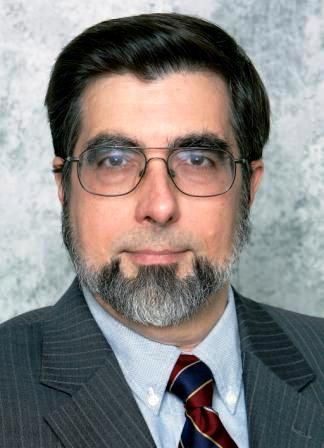 Tom Ligon is an engineering technologist, and holds two independent Bachelor of Science degrees from Virginia Tech: Biology (with a Health Physics option) and Electrical Engineering Technology. He did undergraduate research in chemical kinetics. This unusual combination of majors and interests is reflected in his career, which includes technical writing, fifteen years of materials science and general laboratory investigations, consumer product safety, fusion research, and avionics and control systems. In a world of specialists, Tom aims for a broader understanding, an approach which serves him well in science fiction.
Mr. Ligon has written a number of works of short fiction, almost exclusively for Analog Science Fiction and Fact. The one notable exception, a novella called For a Little Price, is scheduled to be published in September 2008 in a collection of Muslim SF called A Mosque Among the Stars. This unusual piece is largely told from the first-person point of view of a terrorist, but takes the view that Islam itself should not be blamed for terrorism. At least two of TomÕs stories (Dear Colleagues and Funnel Hawk) have been required reading in college courses. TomÕs stories are typically hard science fiction, crafted with an eye to plausibility, but also look at the effects of technology on people and cultures, and vice versa.
Mr. Ligon has been a guest speaker at the School of Advanced Warfighting, and was an invited panelist at the FAA 2008 Commercial Space Development Conference. Tom is a noted advocate for Inertial Electrodynamic Fusion, a method championed by Robert W. Bussard. Tom worked for Dr. Bussard on this promising program for over five years, and has written two articles for Analog on the subject. The first of these won a coveted Analab award, voted fact article of the year for 1998, and is partly responsible for starting an amateur fusion research movement.